On November 1st, 2000, 67 miles of the Lower Delaware River along the border of eastern Pennsylvania and western New Jersey, and three Pennsylvania tributaries received Federal Wild and Scenic Designation.
Rich in colonial and revolutionary American history and natural and recreational resources, The lower Delaware River region contains immense resource diversity, combining an area of high population density with a wealth of natural, cultural, and historical resources and recreational opportunities. The river valley houses cliffs rising 400 feet above the rivers that provide for magnificent scenery and habitat unique to the region. The south-facing, desert-like slopes are home to the prickly pear cactus, while the north-facing slopes display flora and fauna usually only found in arctic-apline climates.
The river itself provides habitat for American shad, striped bass, and river herring and is an important component of the Atlantic Flyway, one of four major waterfowl routes in North America. From a historic viewpoint, the river is one of the most significant corridors in the nation, containing buildings used during Washington's famous crossing, historic navigation channels, Native American and colonial archeological sites, and 19th century mills.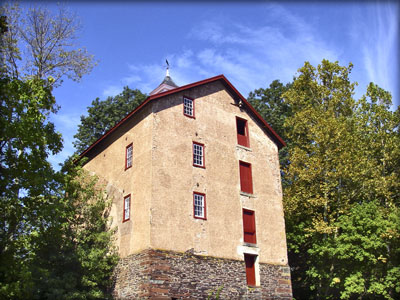 Four  tributaries in the Lower Delaware are also designated, including the Musconetcong River, (3.5 mile stretch from Saxton Falls to Route 46 and the 20.7 mile stretch from King's Highway Bridge to railroad tunnels at Musconetcong Gorge, designated in 2006), Tinicum Creek (headwaters of two upper branches to the Delaware River confluence), Tohickon Creek, (downstream of Lake Nockamixon to the Delaware River confluence), and Paunacussing Creek (portions
passing through Solebury Township to the Delaware River).